"Bratty's Passion for Sploshing Shines Through"
I've wanted to see Brattyshortcakes utilize her tongue in wam scenes ever since seeing her "after the mess" pics in which she's sticking out her tongue provocatively. Tongue play is something I often find extremely erotic. Well, I also know that the idea for this scene had a short shelf life, as once she thought of it, she wasted no time in bringing it to life because she was excited about doing it. What makes her scenes so great is that she is unabashedly herself in front of the camera. This is not a character or even an exaggeration, but her actual personality that comes through in these scenes. As usual, the coverage is epic. The teasing and eye contact with the lens/viewer is always hot. Her body is very pleasing to look at. And she really knows how to work that lollipop!
WAMOptimist93
9/24/23
"Bratty seductively sucks a lolli while cream pieing herself"
If you're into an incredibly sexy woman visually simulating what she'll do with your other head, while smashing cream pies in her face, rubbing her body, and just generally being the personification of sex, this is your video! I didn't know what I needed in my life was Bratty sucking a lollipop while cream pieing her own face, but here we are. Bratty has great lips and puts them to good and evocative use on a lollipop while rubbing cream all over her body and giving herself some incredible pies in the face. Very hot, effective scene.
Randyrex
9/23/23
"An Exhibitionist in Her WAM Element"
There are a handful of earlier Brattyshortcakes scenes I still want to purchase, but this is hands down now her quintessential scene. She lets us know how her fetish began, then goes to town, wrecking her outfit only to strip it off gradually and messing herself up more and more. This scene is notable in that it contains her first head dunk, and thankfully she does it many more times. Even Part 1 of this scene alone is a massive turn on; coupled with Part 2, I find myself having to take pauses because of how erotic this scene is. Moaning several times throughout the scene as her vibrator works its magic, Bratty has very entertaining, explicit, and hot commentary. I feel like she excels at playing personally to different members of her audience, seeing as she knows what we (those she's spoken with) individually like and knows we like watching her do it. The best part is, like a true exhibitionist, she gets off on the thought of us getting off from watching her.
WAMOptimist93
8/31/23
"Yup, definitely a hot mess for all involved :)"
*Summary*

Bratty opens, stood in front the camera with a t-shirt/cutoff short combo, surrounded by mess and ready for action. She channels her best sultry voice and invites you to have some (hand down the pants) fun with her. She starts with a pair of solid pies to the face, gives you some encouragement for your cock, then goes back to the pies, really relishing the moment as she rubs the mess all over her face and body, even giving her pussy a little tickle through her shorts. After some more encouragement, and a solid pie to the bum, Bratty lives up to her name and switches from encouragement to mistress, telling you to blow only when shes done. Soon enough, the shorts and top come off, revealing clean flesh and underwear to mess up, which are quickly messed, the pies interspersed with more encouragement for your cock, and temptations for your mind. *Timings*

New footage comprises 98.9% of the video

Bratty is messy for 90.2% of the video

Bratty is topless for 23.2% of the video

Bratty is nude for 0.0% of the video

*Things I Like*

+ The mess, it's thick, sticky, and definitely turns Bratty into a stunningly hot mess. Particular kudos is paid to the chocolate cream pies, which look just perfect.

+ Bratty's performance is amazing. The way she rubs the mess onto herself is highly sensual, and it's very obvious she's enjoying every second, with cheeky smiles peering through the mess. Her pacing on the JOI is also near perfect, not pushing you too hard yet bringing you along with her own arousal, teasing you with what is to come. Her seamless transitions from partner encouraging partner to dom commanding sub are sudden, well placed and provide a great change of pace throughout.

+ The clothing selections are great, giving you a real sense that Bratty is your partner, giving you want you want. To me, it feels more natural than some JOI's, which can take on the feeling of performance, loosing the personal touch. Without wishing to spoil, the ending is particularly good, and feels particularly personal against some other messy Jois.

*Things I Dislike*

- The two part video. I'm guessing there's a technical reason for this, so I'm not judging this too harshly, but the videos aren't perfectly aligned, so even putting them into a playlist results in some repeated video. It's not the end of the world, but detracts slightly from the overall experience, and after I merged the two parts back into one, I feel it flows much better.

- Portrait format video. I get why it's done, and it definitely fits this video style, but I still don't like it. However, that's a very personal thing, so I'm not holding it as a negative.

- With one exception, all the mess is on the head/face first. This is obviously a personal thing, but to my taste, it would have been nice to see some of the pies go onto the chest or panties, especially after Bratty's top comes off and there's a beautiful blank canvas on show.

*Score*

As a video, I'm scoring 5/5, since my "issues" with it are generally personal. To my personal standard, I'd say 4/5, but that's purely due to lack of nudity, which is obviously a personal decision for the model. LoverOfTheWam
8/10/23
"Bratty, cheer outfit and pies go together like gunge and a tank."
Obviously Bratty is hot and takes a pie like a champ. The dialog doesn't disappoint or the gooey splat of the pies. The cheerleader outfit is just a bonus in this case. Basically she turns into a hot mess and so did I.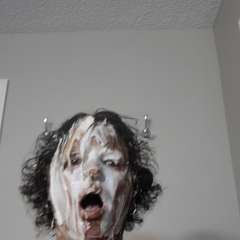 Pie me gently
7/31/23
"At Her Height in Confidence"
With this scene, Bratty continues to push her (on camera) boundaries in a big way. It results in one of her best scenes to date. She's a joy to watch, and if you want to see a woman who loves WAM exploring her sexuality further, look no further than this Brattyshortcakes scene.
WAMOptimist93
6/25/23
"Best Coverage Yet for Bratty"
This scene features Bratty's most transformative wam coverage yet, and as a fan of heavy coverage (particularly of chocolate batter and syrup), this checked off major boxes for me. The hair pulling is also very sexy, especially with Bratty clearly being aroused from it. The nipple clamps were a nice touch, and Bratty's occasional smiles toward her "tormentor" were also fun. I also love how she went a long while without wiping her eytes or anything, putting me in mind of the likes of retired wammers like Mrs. Bee or Piegirlkay. Phenomenal scene that will certainly have great "replay" value.
WAMOptimist93
6/3/23
"Excellent Erotic Ecstasy"
I was in no way prepared for this scene. This is Brattyshortcakes' first fully XXX WAM scene, and it lives up to that promise. All of the pieces combine to make a scene greater than the sum of its parts. Even amidst the kinky outfit, the vibrator, and the WAM, the key to the scene is Bratty and her infectious love of Wam. Amidst her frequent orgasms, my favorite part of the scene is when she's wallowing in the mess at the end. She looks directly in the lens and, smiling and leaning forward, says, "It feels so fucking good." The same can be said about enjoying this scene.
WAMOptimist93
5/27/23
"A sexy video from a beautiful lady"
Brattyshortcakes is just gorgeous and natural in this video. Her choice of outfit--a tennis dress with sewn-in panties is cute when dry at the start of the video, but when she gets wet it becomes absolutely alluring. Her play in the bath is mesmerising--as well as full immersion, she pours jugs of water over her boobs and runs her hands over her upper body, while pulling some seductive facial expressions.

I wouldn't normally have chosen a wetlook video featuring a dress but am so glad I did!

Thank you Brattyshortcakes!
Andytac
5/13/23
"She's Been Bitten by the WAM Bug"
Brattyshortcakes has produced better and better scenes in her short time here on UMD thus far, and this latest is no exception. Just even aside from a wamming standpoint, I'm a big fan of fit/muscular bodies on women, and it's clear from her legs in those Nike shorts that they are solid muscle. Just a nice little tidbit that I'm privy to, but what's cool about this scenario is that Bsc really did have the house all to herself, and wam was how she chose to wind down! She removes her bra from underneath her shirt without lifting it, and we can see her nipples poking through underneath. She proceeds to pie herself, moaning and sighing in ectasy as she does so. She then takes both strawberry and chocolate icing, smearing her face, hair, and clothes. Last, but certainly not least, she pours a bowl of chocolate cake batter over her head. Her face is covered, and then she smears some on her clothes and legs as well. She teases her pink dildo that is a prop behind her, cheekily saying, "That's for later" (spoiler alert: she saved her naughtier solo fun for after the cameras stopped, a choice that I can respect despite it making me suffer). At one point she stoops over while gather more of the mess, back to the camera, showing off her form-fitting Nike shorts. Better yet... there's wetlook as she rinses off, and you can see her nipples underneath her shirt as it sticks to her skin in somewhat see-through fashion. Long story short, Brattyshortcakes turns me into a babbling mess because this scene is wonderful. Simple yet effective set-up, well lit and with a clean, nicely contrasted background, and featuring a woman who is becoming more and more comfortable expressing her sploshing fetish for us to see. Her enthusiasm reminds me a lot of Jayce. Can't wait to see what's next!
WAMOptimist93
4/23/23
"It's Clear That She's Loving It"
Another longer scene from Brattyshortcakes, which is a plus, where she's wearing a sexy 50s-style dress and heels for Pi Day Celebration. She proceeds to get pied, and her commentary is very entertaining, to say the least. The passion and genuine love of wamming is very evident in Brattyshortcakes' scenes (in spite of her "character" being upset about it), and this is easily one of her best yet.
WAMOptimist93
3/17/23
"A Short Burst of Fun, With Great Legs!"
Brattyshortcakes clearly has fun with WAM, and this latest scene is no exception. Loved the different substances used, from chocolate cake batter to icing, etc. Her short, tight black dress and boots are very sexy, as are her muscular legs, which she has no qualms showing off. Her reactions show that she is enjoying this as much as we do.
WAMOptimist93
3/11/23